Parking for Football Games
Frankie Sauseda
Thursday, September 05, 2019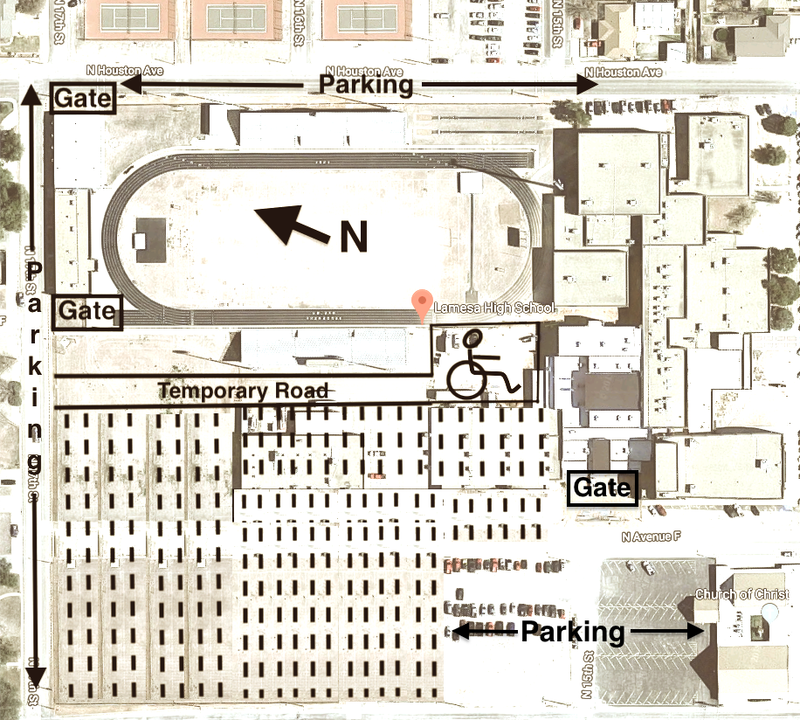 Due to the current construction projects at Lamesa High School, Principal Jerry Jerabek has some suggestions for parking for the Golden Tornadoes' home football games this season. "We're able to provide three entry points to Tor Stadium this year accommodate our fans during construction this season." Jerabek said. The Cafeteria entrance will provide access to the home (west) side of the field & 2 gates on each side of the LHS Field House on N 17th St. will provide access to both sides of the field from the north & east parking areas on the visitors side. There are 3 primary parking lots available to our fans with additional street parking available to our fans on all sides of the stadium.

1. The student parking lot is available like last year on the west/home side of the stadium (enter through Cafeteria).

2. The Lamesa Church of Christ lot just west of high school is being made available graciously by the church as well.

"This is completely different compared to the past since we normally keep our building locked," Jerabek said. 3. The east "visitor" parking lot east will be available to home fans for parking along with tennis court parking on the visitors side of the stands (enter through north gates by LHS Field House). Handicap Parking is available inside the stadium via a temporary dirt road across our practice field which goes behind our home stands. Enter the temporary road to the handicap parking through a gate from N. 17th St. just west of the Field House. "Our people need to remember parking will be on a first come first serve basis." Added Jerabek. During this time, fans are also encouraged not to block people's driveways when they park on the streets. A detailed map showing parking areas and ticket gates is available on the LISD website and via their social media outlets like Facebook and Instagram.